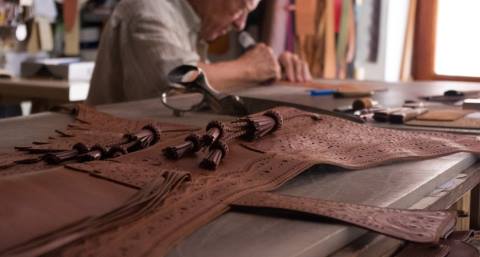 Founded en 1969, Hermanos Ruiz Ripiero it's a familiar business located in Las Ventas con Peña Aguilera (Spain), a city traditionally well known for it's leather craftsmanship, which for decades has made it's products with first quality leather and the loving care born from experience.
Pioneers at our beginnings in the manufacture of horse training and hunt products like rifle cases, boots, chaps and other hunt clothing and equipment, in the recent years we have seen increased the demand for more urban and casual products for which we have developed a wide range of design products of high quality, leading to among other things to provide more than 200 different models of artisan handbags for women.
From the choice of materials, their treatment, design and custom dressmaking, in Hermanos Ruiz Ripiero we make our products with great care and proud thanks to many years of experience and exclusive dedication to leather craftsmanship. In our store you can also find wood carvings and finishes, bronze sculptures and lithographs from our national famous artist Josechu Lalanda, as well as lots of artistic and artisan items related to nature and hunting subjects.